Winter is coming, and along with it comes a new season of weather that can affect many aspects of your daily commute route. Rain can make the roads slippery and impact your vision; the darker days can make it harder for drivers to see you; and snow – while it's fun to look at and play in – can drastically impact your day-to-day travel.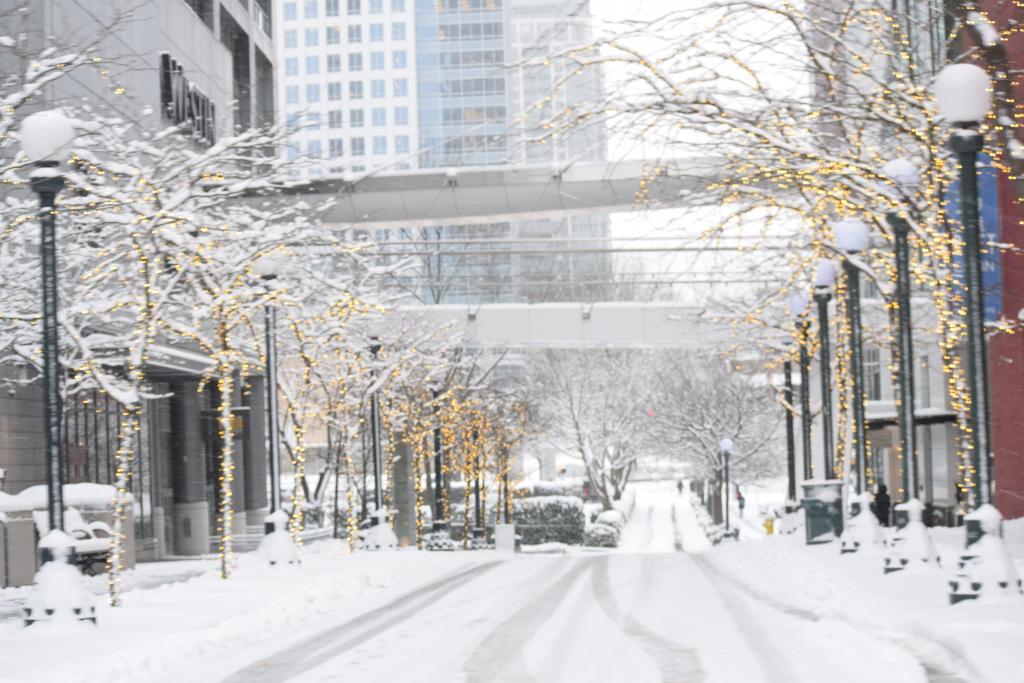 What to do: The rain and cold can make biking, walking, and transit a bit less enjoyable, but with the right preparation, you can make it a more comfortable experience. Here are some tips from Choose Your Way Bellevue:
Check the weather forecast

Always know what you are walking into when you walk out the door, so you are best prepared to deal with it.  

Use your resources and plan ahead
Leave early

Give yourself some extra time to bike and walk to your destination or the bus stop. Rushing in bad weather can be stressful and lead to a slip or fall.  

Use the right gear

It can rain steadily for hours at a time; having a waterproof jacket and waterproof shoes will go a long way.
Wear gloves and a warm hat when walking and biking in cold, windy weather, to avoid discomfort—but be sure your helmet fits properly over your hat.
Especially during the shorter days of winter, wear reflective gear, a white front light and red rear light and reflectors on your bike or person when biking or walking in wintery and dark conditions to increase visibility. Per state law, at night, bikes must have white light on the front and a red reflector on the back.
Wearing layers goes a long way in keeping you warm, while also giving you access to take layers off once you get on the warm, cozy bus.

Watch your step

When entering and exiting the bus, make sure to watch your step and use any available handrailing.

Check out the following winter travel tips from the City of Bellevue:

Practice putting on your tire chains at home before you need them and put on traction tires if you have them.
Have an ice scraper/snow brush and other essentials for your car. Visit https://wsdot.com/travel/real-time/mountainpasses/winterdrivingtips for a checklist of other items to have in your car to be prepared.
Purchase a snow shovel. Clearing your sidewalk of snow helps keep people who are walking and rolling safe!
Buy shoes with good grip, ice grippers to put on your shoes, a walking stick or other mobility safety devices to help with walking in winter conditions.
Know whom to contact in an emergency:

For life-threatening emergencies, call 911.
To report blocked or hazardous streets and sidewalks, fallen trees and similar problems, call the city's 24-hour response line at 425-452-7840.
Call Puget Sound Energy at 1-888-225-5773 to report a power outage.
Non-emergencies can also be reported through the MyBellevue app.
In addition to SoundTransit.org/alerts and MetroWinter.com for transit information during winter weather, the following city resources can keep you informed:
During a winter event, city staff work 24/7 in 12-hour shifts to clear roads. Streets are prioritized for plowing based on a snow response map that considers access for emergency services, transit, traffic volume and other factors. These major routes may require repeated plowing and sanding before crews are able to clear neighborhood streets.
For more tips and information on the city's winter weather response visit BellevueWA.gov/snow-ice.
Now that you've been provided tips for traveling in the winter, including biking, walking, and riding the bus, you're more prepared to take to the streets! Don't forget to check out the Choose Your Way Bellevue Rewards program to learn what incentives you could win for logging your non-drive-alone trips!
-Choose Your Way staffer Jake