News
Posted on September 20, 2021
King County Executive Dow Constantine today announced that a $7.5 million investment by Amazon will help King County Parks complete two key segments of the Eastrail, including Wilburton Trestle in Bellevue.
Posted on September 13, 2021
As Link expands to serve 12 new Eastside light rail stations in coming years, King County Metro and Sound Transit are seeking public feedback on conceptual bus changes to serve riders with faster and more frequent connections.
Current and future transit riders are invited to take an online survey through Oct. 18. People interested in learning more and sharing their views can register to attend upcoming virtual open houses Sept. 18 and 29. Surveys and information in seven additional languages will be posted online later this week.
Posted on September 10, 2021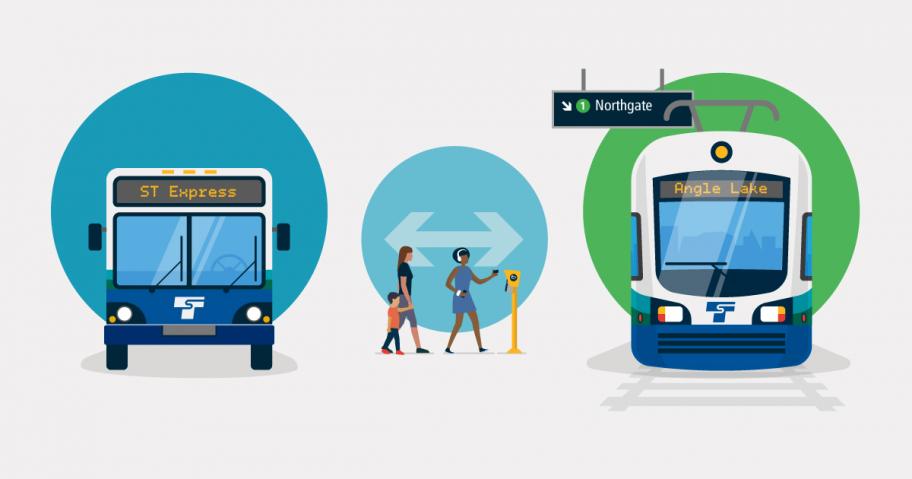 From Sound Transit:
The fall service change will take place on Oct. 2. Bus routes 511, 512, and 513 will be ending at Northgate Station. Route 522 will end at the Roosevelt Station, and routes 542 and 556 will end at the U District Station. Riders will now need to transfer to Link in order to reach their final destination.
Posted on September 9, 2021
The city's first neighborhood greenway has opened on 165th and 166th avenues in East Bellevue, and we want to know what you think of the project, which aims to create a safer, more comfortable corridor for people to walk and bicycle through the neighborhood.  
Posted on September 1, 2021
With just more than a month before the opening of the Northgate Link extension, Sound Transit has begun full simulated service on the extension. Now, all Link trains continue without riders from University of Washington Station to Northgate. During peak service hours, people in the Northgate area will see trains running every eight minutes in each direction along the elevated tracks. 
Posted on September 1, 2021
Big changes are coming to transit service starting Oct. 2 as King County Metro launches updated connections to three new Sound Transit Link light rail stations in Seattle. Metro also will restore 36 previously suspended bus routes across King County, add hundreds of bus trips, and revise and improve other service in partnership with City of Seattle. Together, these changes will support the region's recovery and connect more riders to destinations.
Posted on August 12, 2021
From King County Metro:
Posted on August 10, 2021
Sound Transit is proposing some changes to service in 2022, including, increasing service on select Express bus routes, restoring peak-hour service, restoring Sounder South service and opening the Hilltop Tacoma Link Extension. Come to Sound Transit's virtual open house (August 11 at 6 p.m.) or virtual public hearing (August 12 at 11 a.m.) to learn more about these proposed changes and share your feedback.
Posted on August 6, 2021
From King County Metro: King County Metro is ready to help get you where you need to be while the Montlake Bridge is closed for most of August. Metro will join the 40,000 to 66,000 vehicles a day taking alternate routes while the Montlake Bridge is closed to vehicle traffic for construction.
Posted on August 6, 2021
As part of the Mountains to Sound Greenway Trail construction project, it will be necessary to close a portion of SE 36th Street, between 132nd Avenue SE and 142nd Place SE (see map below), to build traffic islands, complete utilities work and restore the roadway. Four separate closures are scheduled starting Aug. 9 and ending Oct. 4.