News
Posted on May 6, 2019
In early 2020, King County Parks will kick off a partnership with the Washington State Department of Transportation (WSDOT) to build several new paved miles of the ERC trail including a critical bridge over Interstate 405 in Bellevue. This project is scheduled to break ground by spring 2020, with the goal to be complete in 2021.
Posted on April 11, 2019
From King County: The transit-to-trails service co-led by King County Metro and King County Parks with additional funding from Seattle Department of Transportation and REI Co-op returns April 20 with more routes connecting convenient transit locations to popular trailheads.
Posted on March 27, 2019
From Sound Transit: Riders traveling the I-405 corridor can now enjoy great views and less-crowded rides on double-decker buses. Some ST Express trips on routes 532 and 535 are now on double deckers, adding more than 40-percent more seating than the 60-foot articulated buses they replaced.
To accommodate the taller buses, Sound Transit worked closely with cities along the corridor, which advised and assisted Sound Transit on street tree pruning needed to enable the taller buses to operate on city streets.
"More seats and more room mean more comfort for transit riders in Bellevue," said Bellevue Mayor John Chelminiak. "We appreciate Sound Transit's efforts to increase the capacity of commuter routes, especially as our region continues to deal with congestion."
Sound Transit has operated double-decker buses on its Snohomish County-based routes since 2014. Last year Sound Transit increased its fleet of double-decker buses to replace standard-height buses on the I-5 corridor between Everett and Seattle. All Snohomish County ST Express routes will now use double-decker buses on their busiest trips.
"Double-decker buses have made it possible for more Snohomish County commuters to get out of their cars and enjoy the views on their way into and out of downtown Seattle," said Paul Roberts, Everett council member, Sound Transit Board vice chair and chair of the board's Rider Experience and Operations committee. "Expanding double-decker service along the I-405 corridor will similarly improve the commutes for riders on crowded routes in this heavily congested area."
Community Transit, the only partner agency currently equipped to maintain double-decker buses, also operates Sound Transit's fleet of 37 double deckers. These buses increase total capacity with the same number of bus drivers, in a smaller footprint.
For more information: https://www.soundtransit.org
Posted on March 25, 2019
From WSDOT: Preliminary engineering is currently underway, funded in part with express toll lane revenue.
Posted on March 8, 2019
From Sound Transit: On March 23, 2019, ST Express bus 550 will shift from the Downtown Seattle Transit Tunnel to surface streets to accommodate the Washington State Convention Center construction and future Link light rail expansion.
Due to Convention Center construction and to prepare for light rail expansion, buses will permanently leave the downtown transit tunnel. ST Express Route 550 and six Metro routes will operate on surface streets.
All tunnel buses will move to surface streets on March 23, 2019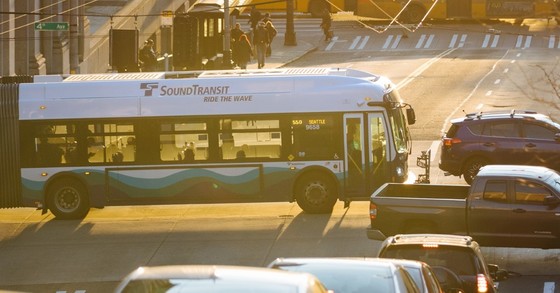 With buses no longer sharing downtown tunnel stations with trains, Link light rail will be more reliable and the system will be ready to expand. Extensions to Northgate (2021) and Mercer Island, Bellevue and Overlake (2023) are under construction. Trains will then reach Lynnwood, Federal Way and downtown Redmond in 2024; West Seattle and Tacoma in 2030; Ballard and South Lake Union in 2035; Everett in 2036; and South Kirkland and Issaquah in 2041.
As the system expands, Sound Transit will operate longer trains at higher frequency. Early next year, Sound Transit will begin the process of connecting tracks from the Eastside to the current system at International District Station.
Sound Transit, Metro, and SDOT issued the March 2019 Service Change press release on Feb. 20.
Signage at bus stops will go up in the first week of March, and street teams will be out at stops several days before and after the service change at affected stops to direct riders to their new/revised bus stops.
The newly updated Downtown Accessibility Map shows how to get around the steep grades of downtown Seattle.
Bus service changes
In addition to these major changes, Sound Transit is making additional minor service adjustments to several other ST Express routes. Visit soundtransit.org/servicechange for more info.
If you ride an affected route, sign up for Rider Alerts to get the most up-to-date information delivered right to your inbox.
Posted on March 1, 2019
From WSDOT: The new flyover ramp which provides a direct connection between SR 167 and the carpool lanes on I-405 in Renton is now open.
The ramp is restricted to vehicles with two or more people between 5 a.m. and 7 p.m. daily. Between 7 p.m. and 5 a.m. daily, the new ramp is open to all vehicles.
Here are some tips for drivers using this ramp:
If you are traveling northbound in the SR 167 HOT lanes as a carpooler, after the HOT lane ends you can stay left to use the new ramp to access the I-405 carpool lane. If you are a solo driver paying to use the HOT lanes and wish to access I-405, you will need to merge to the right after the HOT lane ends and use the existing ramp used today.
If you are traveling southbound in the I-405 carpool lane, after using the new ramp, you will be able to decide whether to enter the HOT lane or merge into the regular lanes.
This ramp is designed to improve traffic flow and safety at this critical interchange. Read more here.