Bike Month In Bellevue is here! It's happening this May, concurrent with Cascade's Bike Everywhere Month. Thinking about giving biking a try? Bike month is a great time to do that! We've pulled together a quick summary of ways to celebrate bike month and make the most out of the spring weather: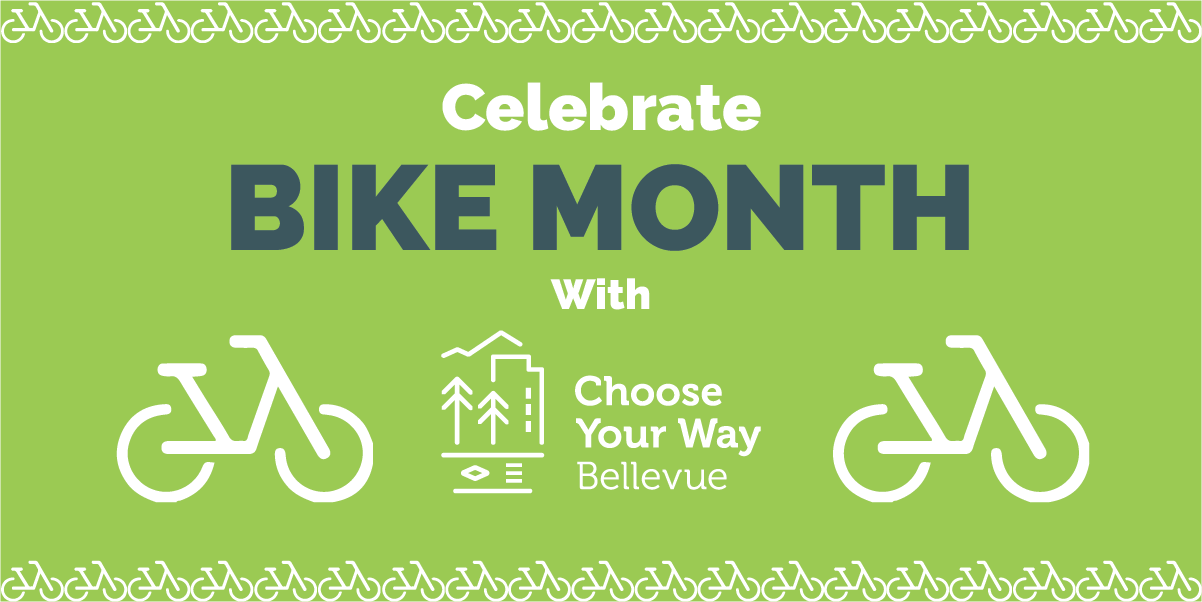 1.    Log your bike trips on Choose Your Way Bellevue Rewards to earn branded merchandise!
Choose Your Way Bellevue offers both ongoing and episodic reward programs. Through May 31, 2021, Bellevue workers and residents can log non-drive-alone trips, such as walk, bike, telework, or carpool, to or from a Bellevue location for at least eight days and receive a Choose Your Way Bellevue merchandise package. Reward packages include a branded backpack, waist pack + bike bell + cycling cap, and reflective vest + keylight! Available while supplies last.
2.    Take part in the Bike Everywhere Challenge
Put on by Washington Bikes, the Bike Everywhere Challenge is an online trip-tracking contest you can sign up solo for, or join with your coworkers and friends that will run throughout the month of May. Log your trips on the Love to Ride platform and you could win prizes! Prizes go out to the top point-earning team and random drawings for participants.
You are still eligible to log your trips in both Choose Your Way Bellevue Rewards and the Bike Everywhere Challenge. You'll just need to log trips in both places. More trips logged = more opportunities to earn rewards and prizes.
3.    Request your Bellevue Bike Map
The 2020 Bellevue Bike Map features updated citywide and detail maps, safety tips, helmet fitting tips, updated tools and resources and a frequent transit service map. Download the map or request a hard copy via mail by calling 425-452-6856 or emailing TRReception@bellevuewa.gov.
4.    Social Media Challenge
Want to earn some sweet rewards for celebrating bike month? Now you can! From now until May 31, 2021, take a selfie with your bike or a view of where you are biking – while not in motion, of course! Post it with the hashtag #ibikebellevue or tagging @ChooseUrWayBell on Twitter for a chance to win a Choose Your Way Bellevue branded backpack with branded biking goodies* inside!
*This includes a bike light, bike bell, and cycling cap.
-Choose Your Way staffer Alex