Note: This is second in a series of three blog posts about transportation/commuting as COVID-19 restrictions continue. Read the first entry here! Stay tuned for future posts with tips for transportation options information for your non-work trips.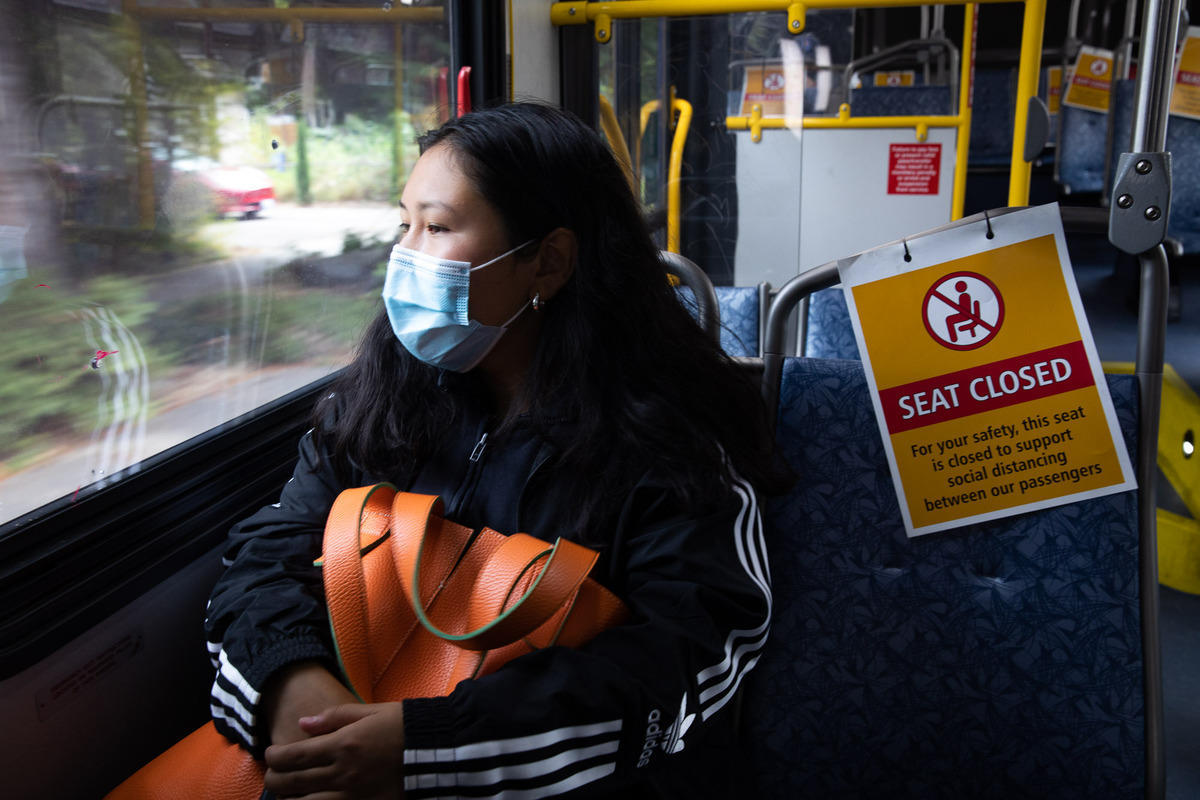 Photo by Ned Aherns, King County Metro ©
For those commuting during the pandemic, there are a lot of questions that can wrack your brain on staying as safe as possible. To help, we've compiled a few tips for keeping yourself healthy with a safe commute to work.
Mask up

One of the cheapest and easy ways to reduce your risk for contracting COVID-19 is to wear a cloth mask or face covering. Wear your mask everywhere you are in public, and always when riding transit or carpooling. In a carpool or vanpool, open windows when feasible. New: Sign up to receive a transit/vanpool Stay Healthy Kit with Choose Your Way Bellevue mask and sanitizer items in a durable travel pouch, while supplies last! Go to www.ChooseYourWayBellevue.org/kit to learn more.

Socially distance

Maintaining six feet from others while in public spaces is yet another way to reduce the spread of COVID-19. To maintain a good distance on transit, certain seats have been closed off to ensure commuters are being safe. 

Stay informed on transit safety

For buses, Sound Transit and its operating partners (including King County Metro, Community Transit and Pierce Transit) have taken the following steps to keep you safe:

All buses sanitized daily
Masks available to passengers on routes serving Pierce and Snohomish counties
Select seats blocked to promote social distancing
Some routes operating with capacity limits to limit crowding

Learn more about by reading our blog post "Transit Agency Steps to Promote Healthy Bus Riding."

Commute on your bike

Take your bike to work OR bike to a nearby bus stop and use the bike racks when you climb aboard. Looking for some ways to improve your biking this fall? Check out our recent blog.

Plan ahead

Know your route before you go! Some great options for planning your trips include the King County Metro Trip Planner and Google Maps. Stay up to date on most recent changes to transit routes, road closures, and more to decrease your commute time.

Commute with vanpool

King County Metro's Vanpool program is a great, safe way to commute to work moving forward. One major benefit is priority access. Commuters in West Seattle can now vanpool to travel on the Spokane Street Bridge for a faster trip. Since the West Seattle Bridge closed in March 2020 and more commuters are on the road, the regular detour routes are getting more congested.
Learn more about Vanpool by reading our blog "Consider Vanpool for your Commute!"
These are just a few tips for a safe and healthy commute to work. Stay tuned for our next blog diving deeper into transportation/commuting as COVID-19 restrictions continue.
 
-Choose Your Way Bellevue staffer Alex