From Sound Transit: On March 23, 2019, ST Express bus 550 will shift from the Downtown Seattle Transit Tunnel to surface streets to accommodate the Washington State Convention Center construction and future Link light rail expansion.
Due to Convention Center construction and to prepare for light rail expansion, buses will permanently leave the downtown transit tunnel. ST Express Route 550 and six Metro routes will operate on surface streets.
All tunnel buses will move to surface streets on March 23, 2019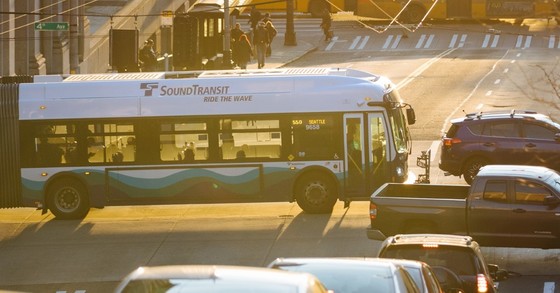 With buses no longer sharing downtown tunnel stations with trains, Link light rail will be more reliable and the system will be ready to expand. Extensions to Northgate (2021) and Mercer Island, Bellevue and Overlake (2023) are under construction. Trains will then reach Lynnwood, Federal Way and downtown Redmond in 2024; West Seattle and Tacoma in 2030; Ballard and South Lake Union in 2035; Everett in 2036; and South Kirkland and Issaquah in 2041.
As the system expands, Sound Transit will operate longer trains at higher frequency. Early next year, Sound Transit will begin the process of connecting tracks from the Eastside to the current system at International District Station.
Sound Transit, Metro, and SDOT issued the March 2019 Service Change press release on Feb. 20.
Signage at bus stops will go up in the first week of March, and street teams will be out at stops several days before and after the service change at affected stops to direct riders to their new/revised bus stops.
The newly updated Downtown Accessibility Map shows how to get around the steep grades of downtown Seattle.
Bus service changes
In addition to these major changes, Sound Transit is making additional minor service adjustments to several other ST Express routes. View Sound Transit's 2019 Service Implementation Plan for more information on 2019 service changes.
If you ride an affected route, sign up for Rider Alerts to get the most up-to-date information delivered right to your inbox.