Choose Your Way Bellevue Counts Down to East Link
Last Updated: April 9, 2021
East Link is Sound Transit's light rail extension opening in 2023 that will allow riders to travel via light rail 40 miles from Redmond to downtown Seattle, Northgate, Sea-Tac Airport and Angle Lake. East Link will have 6 stations in Bellevue, as detailed in the map below. It will pass through Bel-Red, the Spring District, Wilburton, Downtown and South Bellevue. A trip from Seattle's International District to Downtown Bellevue will take only 15-20 minutes.
This page will highlight newsworthy information to help you prepare and make the most of East Link for getting around without driving alone!
As information is available, we'll keep you abreast of activities such as bus service changes associated with the opening, planning for features such as bike parking to help you access the system, and details on timing of the opening as soon as they are known. Bookmark this page to keep up to date on the latest information.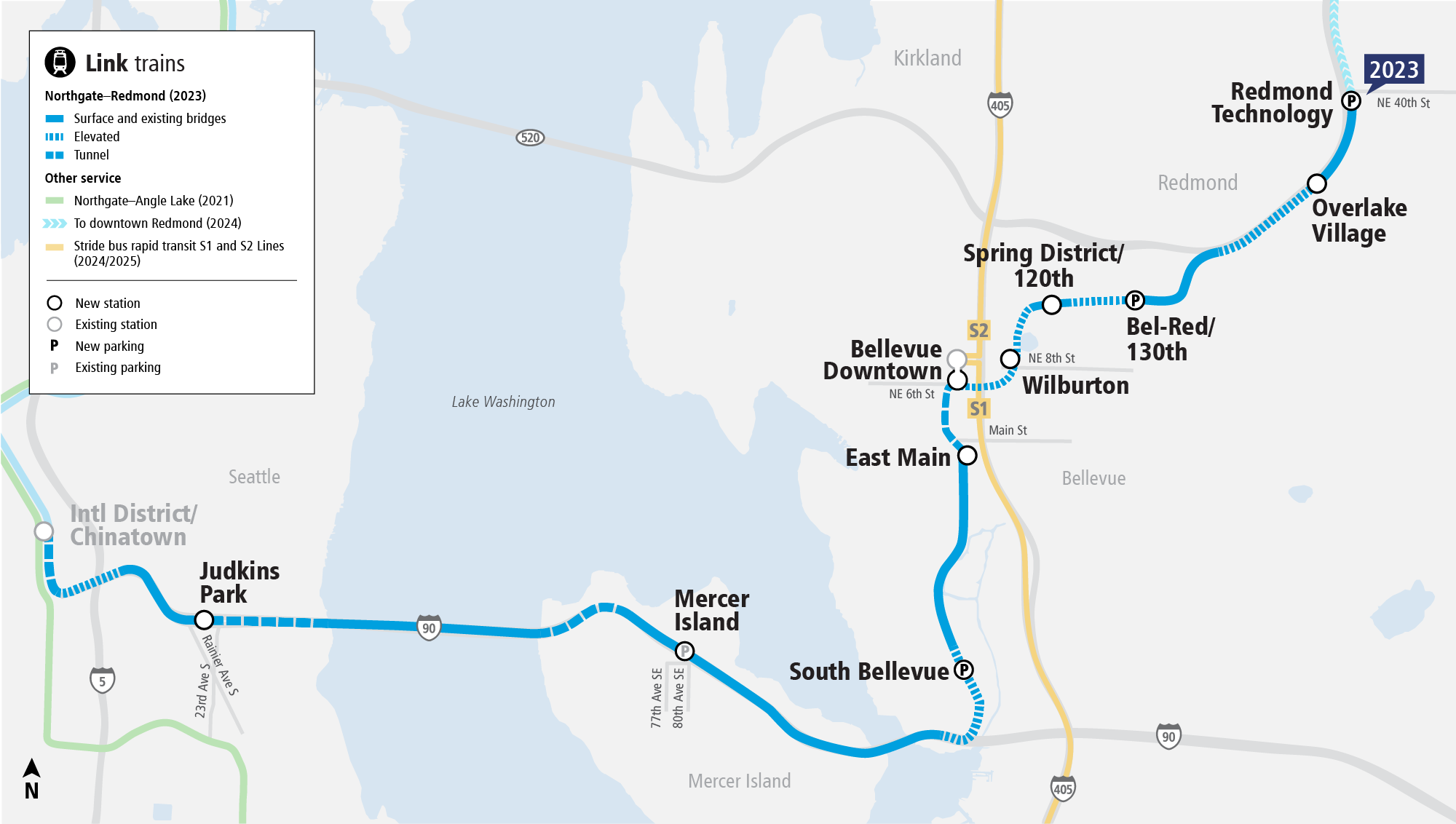 Picture from Sound Transit
News and Information
From King County Metro: As the region's light rail network expands to serve new stations by 2024, King County Metro and Sound Transit are teaming up to ask residents and riders what changes are needed to improve transit service and connections. The East Link Connections transit needs survey is open through April 25, 2021 (4/5/21).
From Sound Transit: The South Bellevue Park-and-Ride garage is opening this fall, two years before East Link launches. It has been closed since 2017. ST Express route 550 riders and King County Metro riders who had to use alternative parking spaces when East Link construction began in 2017 will be able to return to the new garage at the same park-and-ride location. Learn more from Sound Transit's news release (1/19/21).
Videos
Check out this March 2021 video from the City of Bellevue's Transportation Department with information on the stages of work leading up to the 2023 opening.