Vanpool Stories – John B.
Posted on October 28, 2021
---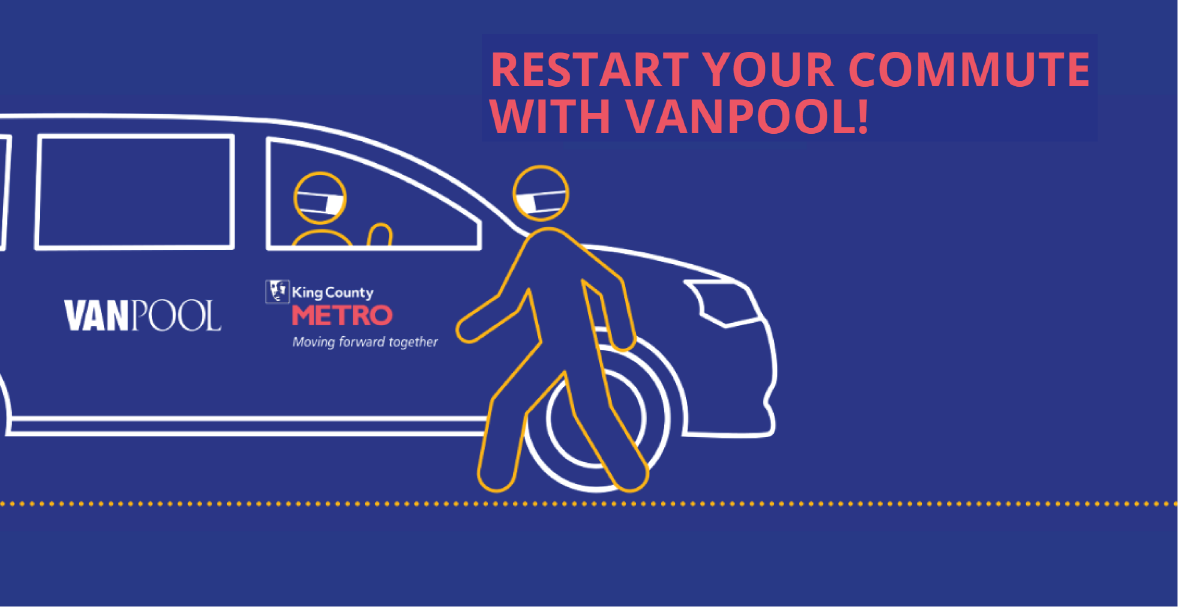 Welcome to the first entry in our new Choose Your Way Bellevue Blog storytelling series, Vanpool Stories. For our first story, we interviewed John Baumgaertner, a primary driver of a long-running vanpool from Maple Valley to the Northwest Corner of Bellevue. John gave us the full scoop on how Vanpool has had a positive spin on his commute – read on!

Q: How did you hear about vanpool and your employer subsidy?
A: When I first started working in Bellevue in 2005 my employer issued me an ORCA Card. I started off riding the bus into Bellevue. I needed to ride three different buses to get to my place of employment. After about a year of doing that I moved and it made it more difficult to ride the bus to and from work. I found a vanpool coming from the area that I was living in and I was able to ride the van in the morning and the bus in the afternoon. About 6 months goes by and my shift changed and I was able to ride in my van to and from work - I've been in it ever since. I have been the primary driver for about 5 years now.

Q: How did you find the other riders in your vanpool? How did you recruit for the driver or bookkeeper role?
A: All the members in our van all work at the same location. We take on new riders when there is a vacancy. Usually, it's just one at a time. Mostly, they find us through word of mouth through our organization. We've had the same bookkeeper for many years and she does a great job. Our van has never found a need for another bookkeeper. As for drivers, some riders do not want to take on the responsibility of driving, but they also find it frustrating when the van is not running because of lack of backup drivers. It seems like after riding for a while people become comfortable and then volunteer to be a backup driver.

Q: What do you enjoy about your vanpool commute? What do you not enjoy about your vanpool commute?
A: I enjoy riding in the van and sharing my commute with others. I enjoy keeping the wear and tear off of my personal vehicle and also saving on fuel. We have enough ridership that our ORCA cards from our company pays for the entire van. Most of the years I've been riding in the van have cost me nothing. There's not much I don't like about the vanpool. If I had to mention one thing, it would be a rider that is consistently late. But we run a pretty tight ship and that usually is not a problem. With several conversations and with the rider being left at the stop they begin to understand how important it is to be on time. Everybody in our vanpool gets along well and is understanding of one another.

Q: Why did you start vanpooling?
A: I started riding the bus and vanpooling to save money, I also wanted to keep the miles down on my personal vehicle. I find it more relaxing than driving my own vehicle. Plus, the Puget Sound commutes can be slow, so it's nice to have a conversation with other riders.

Q: Is there anything that surprised you about vanpooling or something you didn't expect as you signed up for the program?
A: I guess the thing that surprised me is how much I enjoyed it, and how much I missed it when COVID-19 hit. We shut the van down for about 8 months. I was grateful when we got the van going again. We normally ride in a 15-passenger van, but we started off after COVID-19 with a seven-passenger and moved our way back up to our 15-passenger van that we previously had.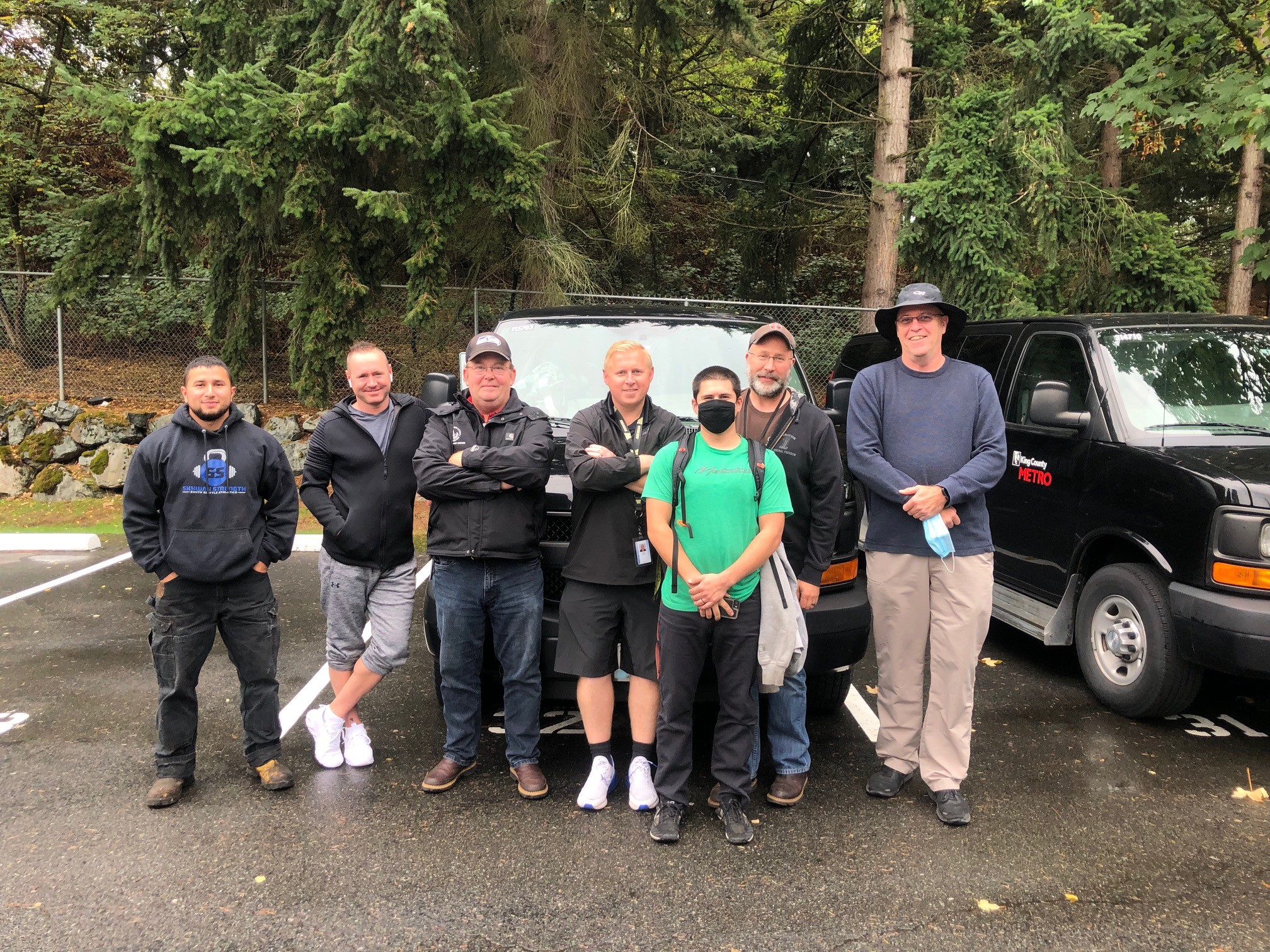 John's Vanpool Group
Q: What is the biggest benefit for you as a vanpooler?
A: The biggest benefit of being a vanpooler in my opinion is keeping wear and tear off your own vehicle and saving on gas while enjoying the company of others around you. Some of us chat on the way home and others can take a nap. I think everybody in our van finds it relaxing.

Q: How does your group coordinate communication about who is riding in the vanpool or who is driving each day? Or, making sure the driver has a key for the vehicle? 
A: Coordinating who is going to be in the van the next day is just through word of mouth. Since I am the primary driver people let me know when they will not be in the van. A lot of times they will send me a text notifying me, we only make two stops and it's not too hard to keep track of. When we got our van we were given multiple keys. Enough keys for each driver. I guess the more difficult aspect would be how we switch drivers of the van. If the primary driver is gone a backup driver would be taking the van. This usually means they will be parking it at their house. We try to coordinate this the day or weekend before the next commute. Everyone is very flexible and willing to do what it takes to keep our van running. That could be taking the van to their home, going to another home to pick it up and bring it back home or simply commuting from the place in which it was parked.

Q: Have you recommended vanpool to a friend or co-worker and what are the advantages to vanpool that you would highlight?
A: I have on multiple occasions suggested vanpooling to others. The benefits of vanpooling are that it's relaxing, you can nap, and you can talk to others in the van or use your phone. You can also simply meditate and look out the window and enjoy the ride home. You even could listen to a an audiobook. You're simply along for the ride.

Q: Is there something unique about your vanpool group that you'd like to share? 
A: There is nothing really unique about our van. I would say we have some long-riding members in it. Everyone is pretty relaxed and easy going.

Q: Is there anything else you would like to share about your vanpool experience?
A: I believe vanpooling is a good way to go. It takes many cars off the road. In our case about ten. It saves wear and tear on our personal vehicles and saves gas money. You can relax until you get to your destination, get caught up on personal or work items or simply make that call to that someone who has been on your mind. I have been involved in the program for many years, and I intend to stay involved for many more to come.
Many thanks to John for sharing his vanpooling story! Keep track of the latest information and tips on vanpooling at our Choose Your Way Bellevue Share the Ride page. And stay tuned for our next entry in the Vanpool Stories blog series. If you'd like your story to be shared, please reach out to info@cywb.org!

-Choose Your Way staffer Alex