Get Rewarded This Winter With Choose Your Way Bellevue
Posted on January 29, 2021
---
There are plenty of ways to receive free items from Choose Your Way Bellevue for broadening your transportation choices. Take a gander at the current rewards and offers we have going on this winter!
OFFERS
Crossroads Connect

City of Bellevue and King County Metro have launched an on-demand service called Crossroads Connect. It serves people in Bellevue's diverse Crossroads and Lake Hills neighborhoods, linking homes, jobs, schools and shopping to Metro bus routes that serve the broader Eastside. Take a picture of yourself using this service and email it to info@cywb.org with your current mailing address to receive a free Choose Your Way Bellevue backpack (while supplies last)!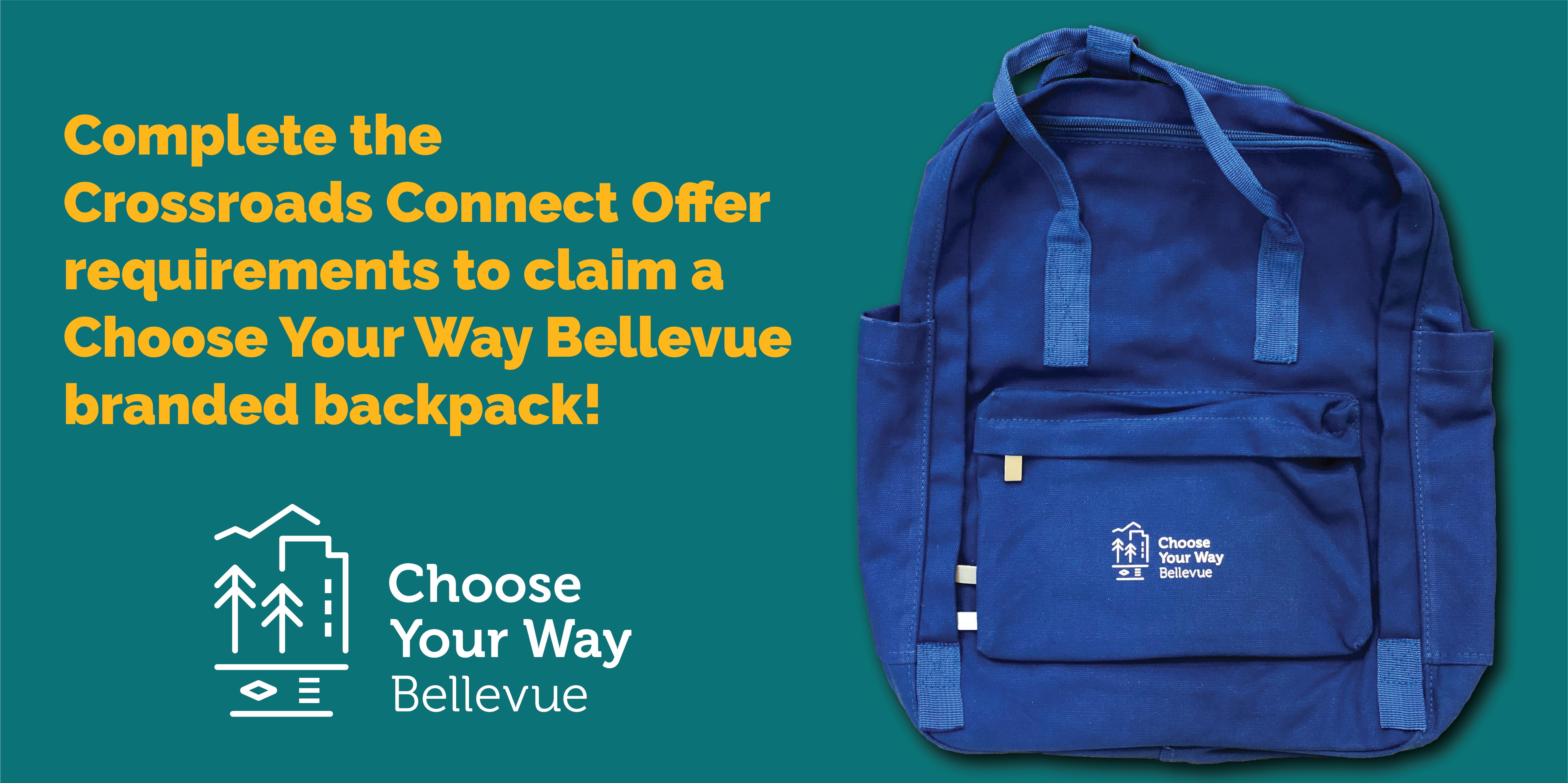 Stay Healthy Kits

Stay safe while getting around Bellevue! Receive an adjustable cloth face mask, hand sanitizer, sanitizing wipes and information about riding transit or vanpooling during COVID-19, all within a reusable zippered pouch for carrying papers on the go. Our transit and vanpool stay healthy kits are FREE for Bellevue workers and residents while supplies last. Request your kit and learn more about the measures being taken to keep you healthy on transit and vanpool during COVID-19.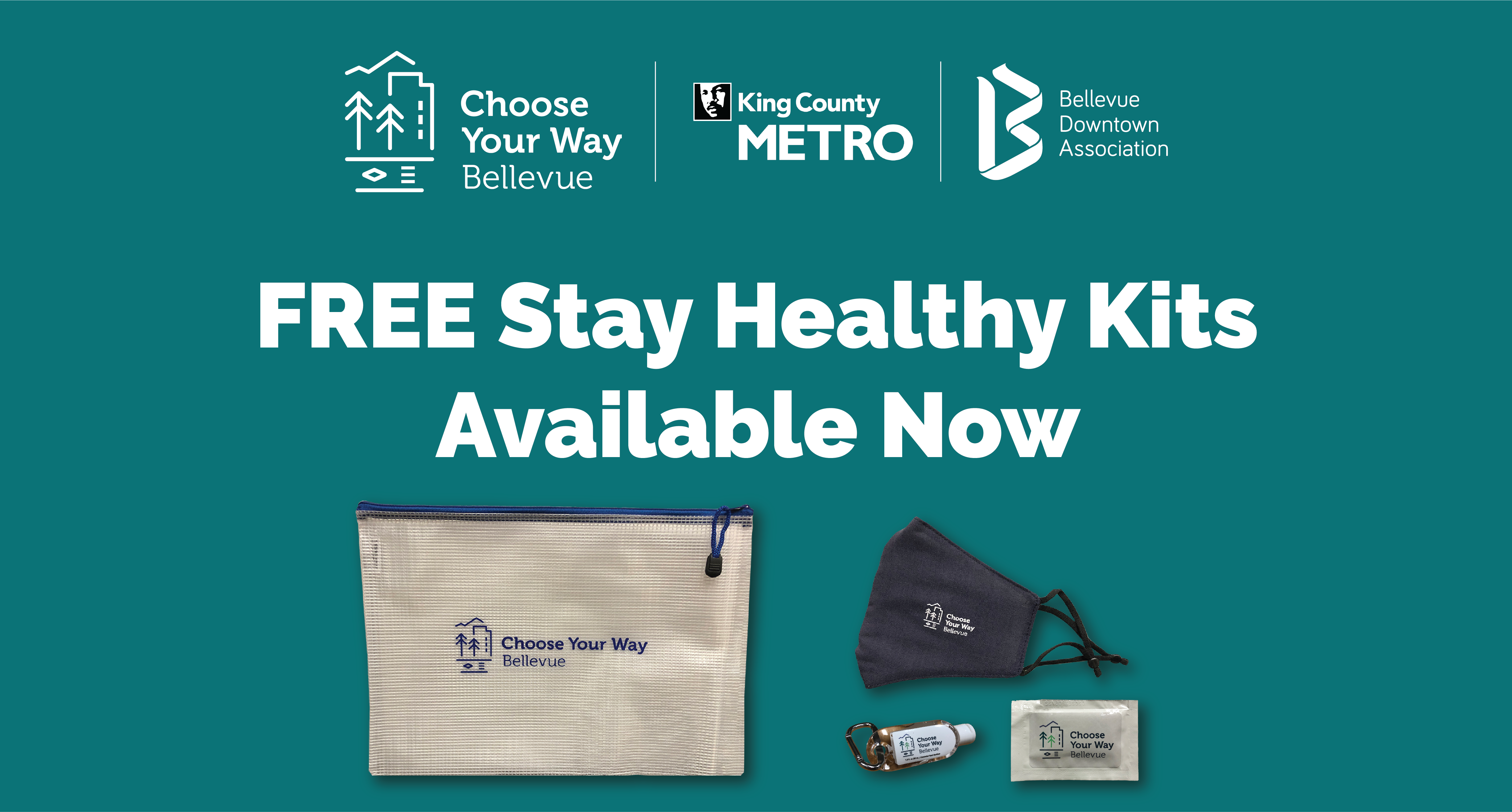 Try Transit

Choose Your Way Bellevue wants to help you try transit. We are inviting new transit riders to apply for a preloaded $25 ORCA card (while supplies last). Try transit for work or for play; we have your first trips covered (while supplies last). Please complete this questionnaire and receive your free ORCA card and pre-loaded with $25.
REWARDS
Cold Days, Warm Trips

Every new year brings with it the opportunity to make a fresh start.  This winter if you log at least eight days' worth of non-drive-alone trips, such as walk, bike, telework, or carpool, you'll qualify for a Choose Your Way Bellevue reward! These trips must be taken to or from a Bellevue location through March 31, 2021. Choices for merchandise packages include branded backpacks, waist pack + keylight + reflective slap bracelet, and tumbler + touch screen gloves.​​​​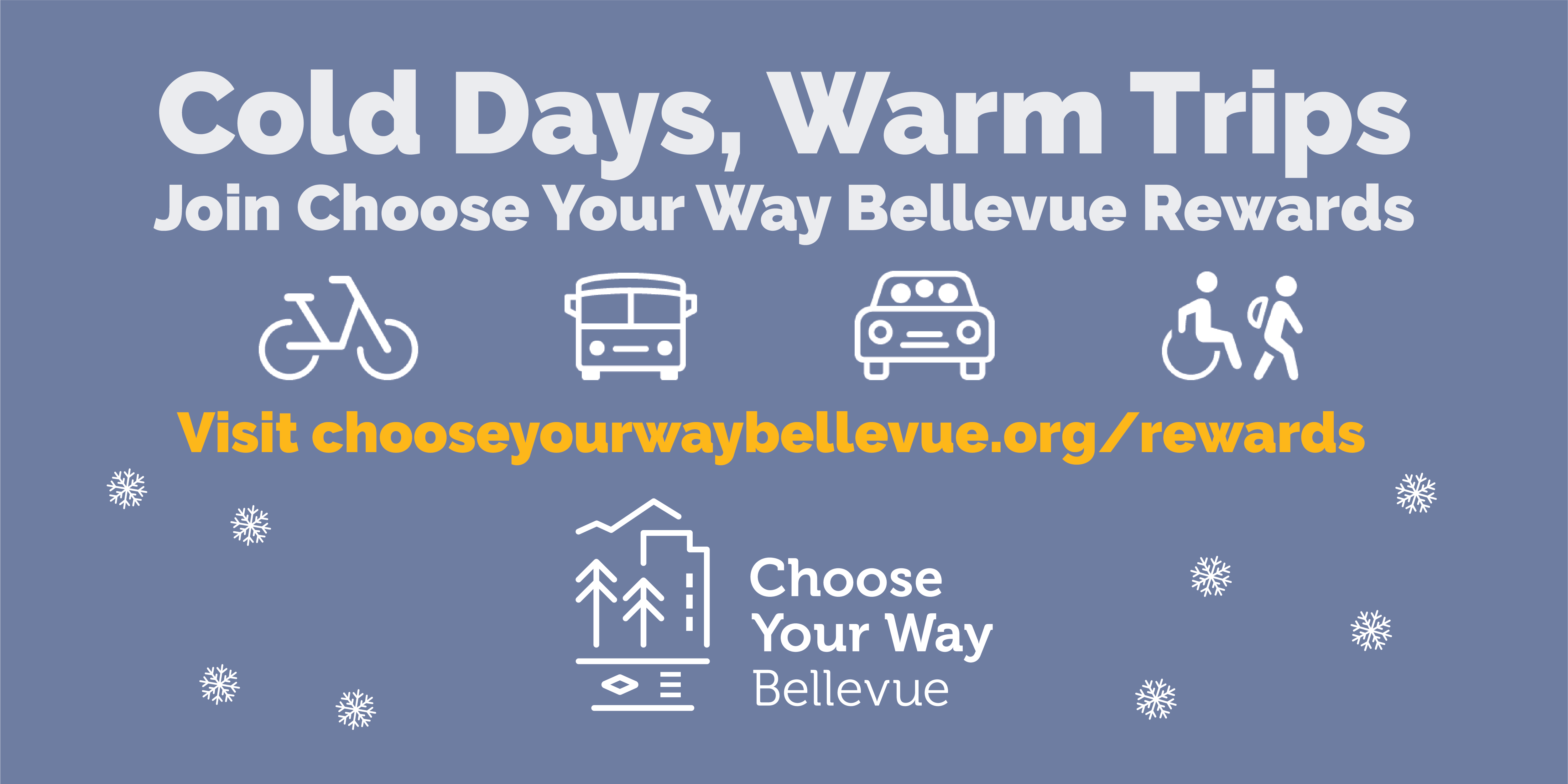 Mover of the Month

Share your non-drive-alone transportation stories with us! How have you overcome the challenges of COVID? Do you work from home or go to the office? Each month CYWB staff will select one Bellevue traveler's submission, and their story may be featured in our monthly Choose Your Way Bellevue newsletter. Winners will receive $50 towards your bus or vanpool fare in the form of a TranBen voucher or the equivalent in Choose Your Way Bellevue merchandise! There's no need to reapply each month, but feel free to share more than one story with us. Learn more and submit your commute story here.

Bellevue's $50 Winner

Every month we're still randomly choosing one Bellevue trip logger to win a $50 reward from among those who log eight (8) days of non-drive-alone travel (transit, carpool, vanpool, walk, bike, telework or trip removed due to compressed work week) in a calendar month to or from a Bellevue address. Trips must be logged by the 7th of the following month to count toward eligibility for the drawing. Your travel habits make a difference in our community - we're here to reward you for it!
Now is a great time to take advantage of our rewards and offers! Stay in the know with our ongoing rewards at www.ChooseYourWayBellevue.org/rewards. Want to continue getting updates from Choose Your Way Bellevue? Sign up for newsletter here.
-Choose Your Way staffer Alex