Transit Agency Steps to Promote Healthy Bus Riding
Posted on September 10, 2020
---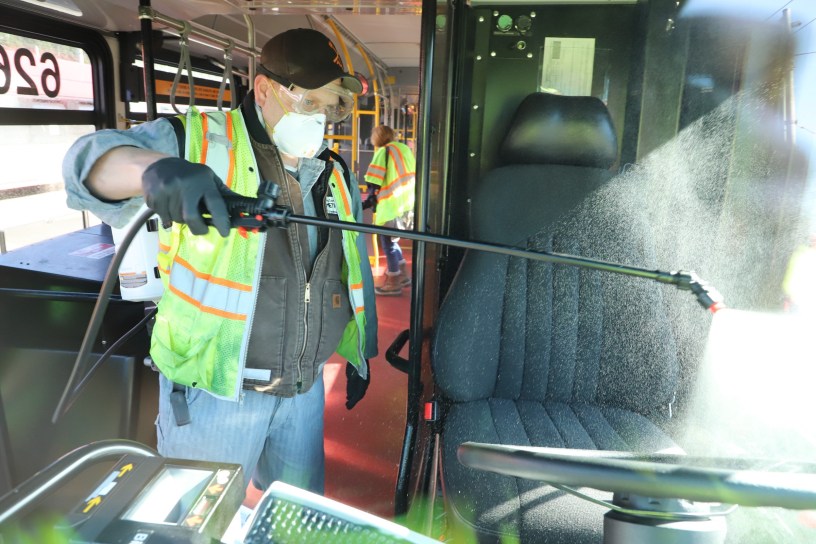 Since the beginning of the pandemic, many individuals have wondered if transit is the best way to get around. Is it safe? How clean are the buses? What protocols are in place? Here, we answer these questions.

For buses, Sound Transit and its operating partners (including King County Metro, Community Transit and Pierce Transit) have taken the following steps:
All buses sanitized daily
Masks available to passengers on routes serving Pierce and Snohomish counties
Select seats blocked to promote social distancing
Some routes operating with capacity limits to limit crowding

King County Metro has reported the following additional information on cleanliness of their buses during COVID-19.
Air Filtration

The inside air system on buses, known as HVAC, constantly filters air through it to trap COVID-19 and prevent the virus from moving throughout the system.

Cleaning

Cleaning protocols and frequency has been upgraded on Metro buses since COVID-19 emerged. Crews disinfect all areas of every bus, every night.
If you're looking to take transit, make sure to stay up to date with the "reduced schedule" pages from King County Metro and Sound Transit to ensure your bus routes are still in effect. As you travel, remember to mask up, wash your hands and maintain six feet from others. Stay safe!
-Choose Your Way Bellevue staffer Alex

Sources:
www.soundtransit.org/blog/platform/staying-safe-board-trains-buses
https://kingcountymetro.blog/2020/04/10/how-metro-improves-air-quality-in-buses-for-drivers-and-passengers/
https://www.youtube.com/watch?v=7A6KKqLC3o8
https://kingcounty.gov/depts/transportation/metro/schedules-maps/reduced-schedule.aspx
https://www.soundtransit.org/ride-with-us/changes-affect-my-ride