Rapid Transit on the 405? Find out what's coming at Sound Transit Online's Open House
Posted on January 28, 2020
---
From Sound Transit:
Congestion, traffic and long commute times are a headache and driving alone is becoming less reliable for commute times. Fortunately, Bellevue has access to a variety of mobility options, including vanpools, bike trails and, of course, transit. In fact, those commuting the I-405 corridor can look forward to a welcome addition: Bus Rapid Transit.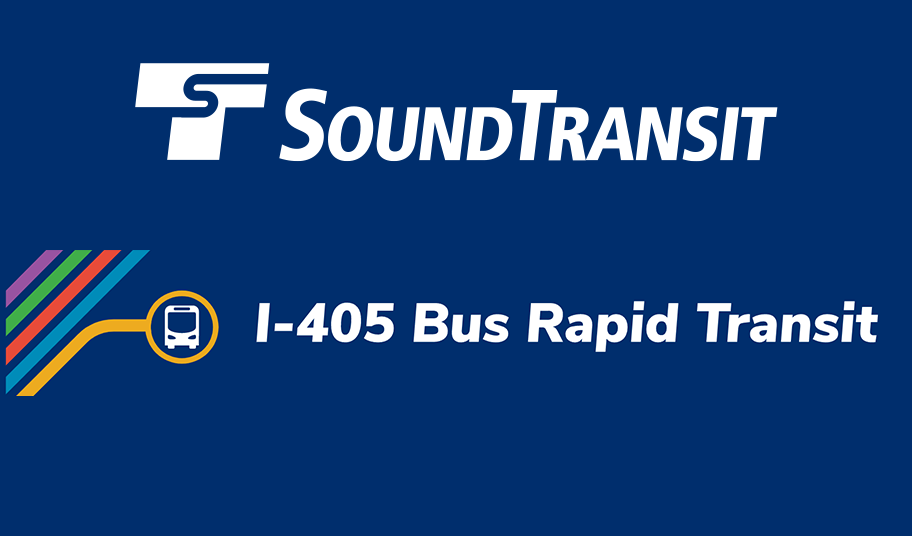 What is Bus Rapid Transit?
Bus Rapid Transit is a fleet of buses using a dedicated right-of-way providing fast, frequent, accessible and reliable high-capacity transit. With features like off-board fare payment, improved and efficient bus stations, specialized bus vehicles, and all-door entry and exit, BRT cuts commute times with a more streamlined and efficient busing experience.
BRT is expected to be implemented by 2024 along the I-405 and SR 518 corridors and on SR 522/NE 145th Street to help provide better commuting options along these routes. This new BRT service will be known as Stride BRT and will provide the Eastside with much-needed access to reliable public transportation going north and south.
Critical to Bellevue, new Stride BRT service on I-405 will bring:
Two new BRT lines perfect for commuters: Lynnwood to Bellevue and Burien to Bellevue
Connection to Link Light Rail at Lynnwood, Bellevue and Tukwila
Why is BRT Better Than What We Have Now?
Easy: speed and reliability. The Stride BRT buses will use expanded express toll lanes north on I-405 to bypass traffic. The improvements are significant: the new Stride BRT service will save about 24 minutes on each trip from Lynnwood to Bellevue.
For the south end, Stride BRT buses will run in new Express Toll Lanes to be built as part of the I-405 – Renton to Bellevue Widening and Express Toll Lane project. According to Sound Transit, these new Stride BRT lines will save riders about 17 minutes on each trip from Burien to Bellevue.
How Do I Find Out More?
Sound Transit is making it easy to find out what these new lines are all about, but also have a say into how the system is shaped! Anyone interested in getting more information or providing feedback on the planned service can participate in Sound Transit's online open house. You can even provide input on:
Potential amenities and improvements at BRT stations and on Stride buses

Ways to access BRT stations

Biking facilities and traveling by bike

The updated BRT shelter design
Join the online open house and view a video instruction to Stride BRT at https://i405brt.participate.online/. The online open house will be open through Feb. 14, 2020.
As the region grows, adding new and efficient commuting options to and from Downtown Bellevue will make it easier to get around in less time with less stress. And that's something we can all be excited about!
-Choose Your Way Bellevue staffer Alex