June 2020: Bike Month in Bellevue
Posted on May 21, 2020
---
While National Bike Month has traditionally taken place in May, Bellevue will celebrate in June this year, a shift that is concurrent with Cascade's Bike Everywhere Month. With the days getting longer and with June 1st just around the corner, here is a quick summary of ways to celebrate Bike Month this June and take in the beautiful Spring weather this year: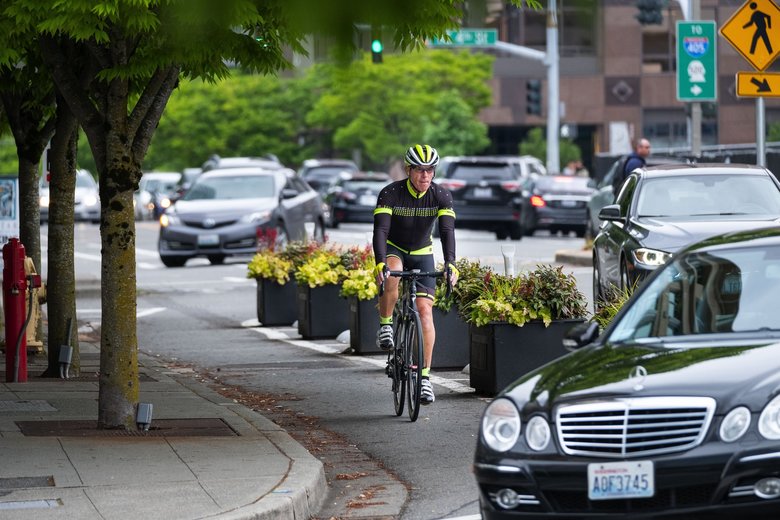 1.    Log your bike trips on Choose Your Way Bellevue Rewards & earn branded merchandise!
As part of our ongoing program, Choose Your Way Bellevue offers both ongoing and episodic reward programs. Through June 30, Bellevue workers and residents can log bike, walk and telework trips to or from a Bellevue location on at least eight days and submit your request to be eligible for a Choose Your Way Bellevue merchandise package. Reward packages include a branded Backpack, Tumbler + Waist Pack or Cycling Cap + Bike Bell. Ready to go? 
2.    Get Prepared: Request your 2020 Bellevue Bike Map 
The 2020 bike map update features updated citywide and detail maps, safety tips, helmet fitting tips, updated tools and resources and a frequent transit service map. Download the map or request a hard copy via mail by calling 425-452-6856 or emailing TRReception@bellevuewa.gov.
3.    Take the F5 Bike Everywhere Challenge
Put on by Washington Bikes, the goal of the challenge is to support, encourage, and celebrate bicycling! Set personal goals, compete with friends or co-workers, or just ride for mental and physical health and earn points and prizes. Remember to ride responsibly and encourage fellow riders to do the same! This year, the challenge host, Washington Bikes has moved to a new platform, RideShark. This new tool will allow you to connect with your apps/devices like Strava, Fitbit, Garmin, and more. RideShark also gives you the ability to track other active transportation trips, including walking and transit! 
You are still eligible to log your trips in both Choose Your Way Bellevue Rewards and the Bike Everywhere Challenge. You'll just need to log trips in both places. More trips logged = More opportunities to earn rewards and prizes. 
4.    Get Social 
Want to earn some sweet rewards for celebrating bike month? Now you can! From now until June 30, 2020, post a video or photo of yourself celebrating bike month with the hashtag #ibikebellevue or tagging @ChooseUrWayBell on Twitter for a chance to win a Choose Your Way Bellevue branded backpack with branded goodies inside!
Facebook | Twitter | Instagram 
-Choose Your Way Bellevue staffer Augusta