Consider Vanpool for your Commute!
Posted on October 21, 2020
---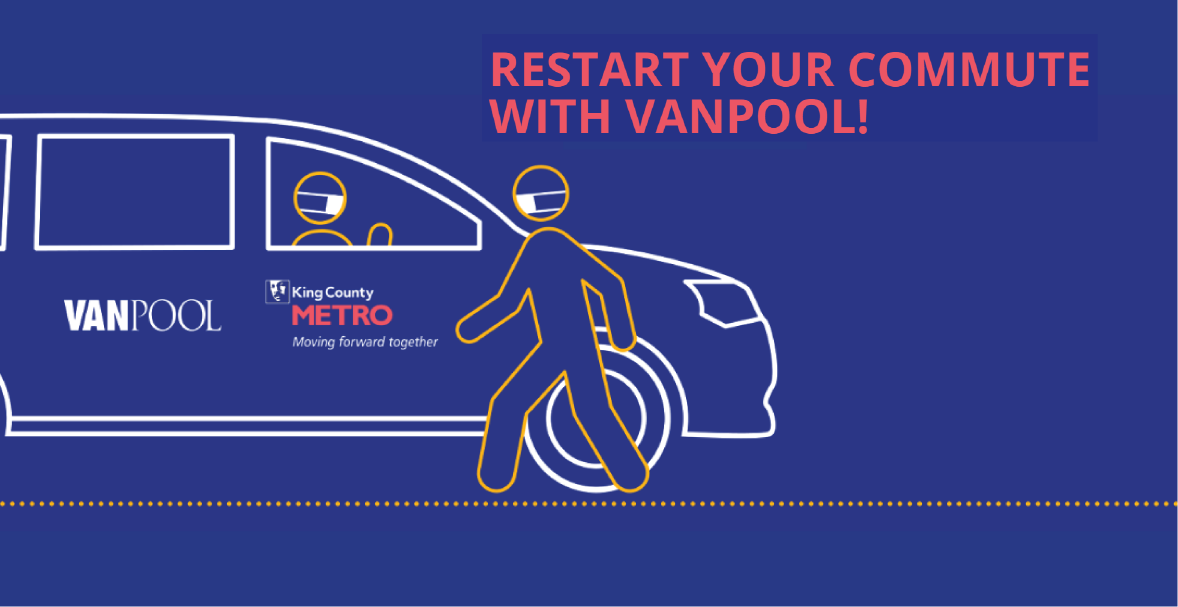 King County Metro's Vanpool program is a great way to commute to work moving forward. Here are a few reasons why you should get (back) into using vanpool:
Basics – Vanpool is a great way to share the ride with others who have a similar commute to work. These group members remain consistent, and can include co-workers, friends or neighbors. One of the group members drives the van, and the riders meet at a pre-set location or are picked up on the way and typically dropped off at their work location. The program includes everything – van, gas, maintenance, insurance, 24-hour roadside assistance and the emergency ride home program.
Flexibility – Enjoy reduced or alternating schedules available to vanpool commuters. Request a free bike rack for your van to combine biking with your vanpool commute.
Fares – Cost will vary but may be similar to a monthly transit pass. Check with your Human Resources department for details about your transportation benefits.
Safety – King County Metro Vanpool has adapted to COVID by adjusting program procedures to reduce in-person contact, as well as providing instruction on how group members can work together for a healthy commute. See details on the King County Metro website.   
Another Vanpool Benefit – Priority access. Commuters in West Seattle can now vanpool and travel on the Spokane Street Bridge for a faster trip. Since the West Seattle Bridge closed in March 2020 and more commuters are on the road, the detour routes are getting more congested. With vanpool access to the lower bridge, commuters are saving 20-45 minutes each way on their commute. Here is a testimonial from one vanpooler:
"I cannot advocate enough for the Metro vanpool program! When traveling to/from West Seattle, it is by far the easiest way to commute. Being able to use the lower bridge has saved us about 45 minutes on our commute each way. Being able to rely on a reasonable commute time has reduced our stress significantly and allowed us more time with our families at home. It is a clean, safe, reliable and cost-effective way to commute to work. Thank you, Metro and SDOT!" -Emily, West Seattle vanpool commuter
For more information on restarting your King County Metro vanpool, click here. Commuting to or from locations outside of King County? Check out vanpooling programs of other agencies in the Vanpool section on www.ChooseYourWayBellevue.org/share-the-ride.
-Choose Your Way Bellevue staffer Alex