Bellevue Bike Riding Numbers During COVID-19
Posted on June 1, 2020
---
Times are certainly different, and from my personal perspective looking out of my bedroom window, I feel that more people are out biking, walking and recreating now – during the state Stay Home, Stay Healthy order – than ever before. 
The anecdote holds true for Bellevue – at least for the month of April, according to City of Bellevue Traffic Management Interim Assistant Director Chris Long. When asked how this year's bike ridership numbers compare to last year's, he shared that "On our regional connections, we saw a significant increase in April fueled by great weather and a desire to get outside during the first full month of quarantine."  
The two graphs show bike ridership over the last three years. The green line (2020) out-rides the prior two years on both the north section of Eastrail and the I-90 Trail during the month of April. It should be noted that bike volumes during the month of May traditionally show a surge of bicycle activity, possibly due to the statewide Bike Everywhere Month and weather improvement. This year, bike volumes for May are still higher than normal, but they decreased from April. (Typically, May see a significant jump in volume, but that jump came a month early.)
EASTRAIL TRENDS

I-90 TRAIL TRENDS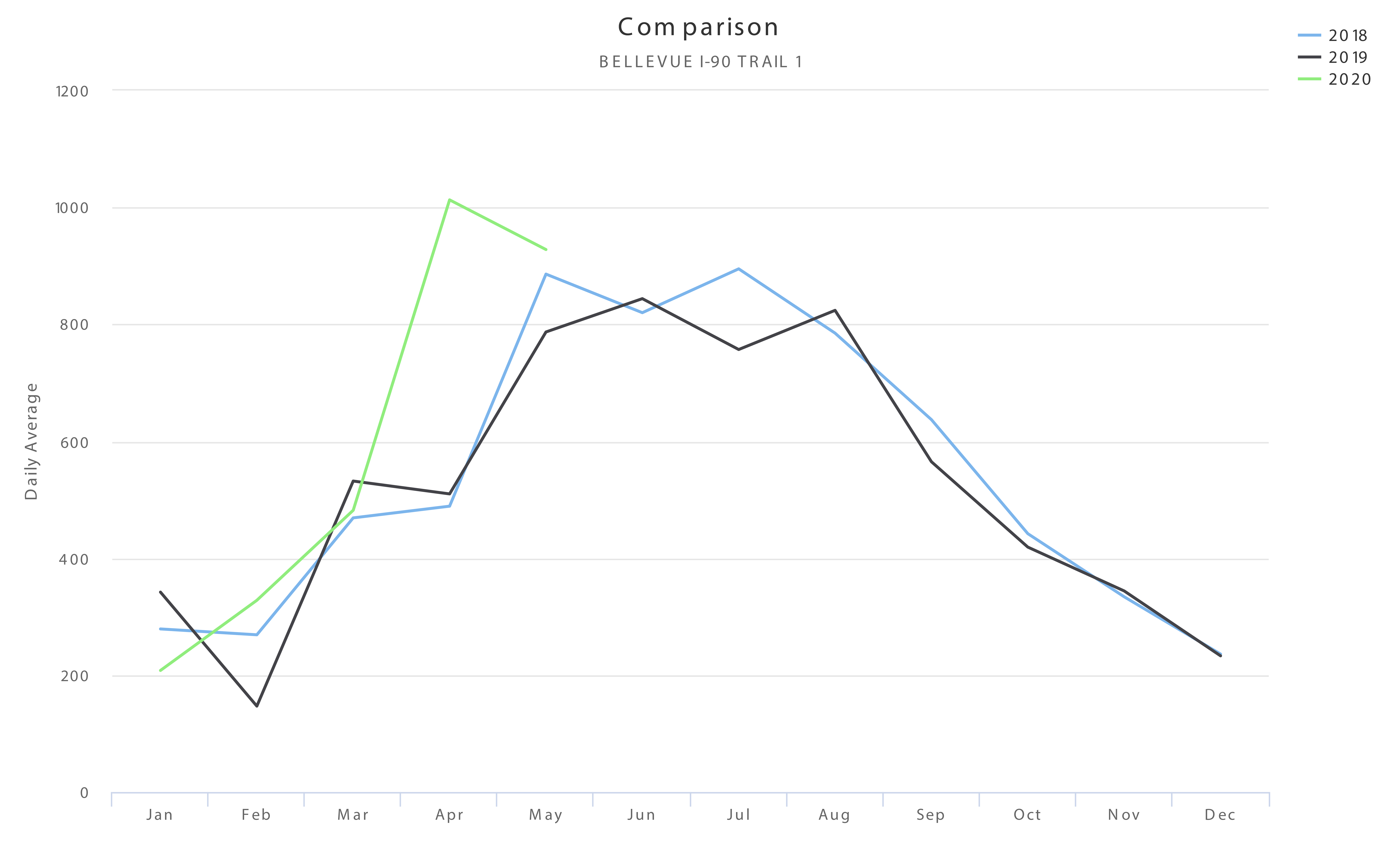 Around the rest of the city, there is not enough historic data to show a reliable pattern. However, in two key corridors, West Lake Sammamish Parkway and 118th Avenue Southeast just south of Southeast 8th Street, bike numbers are in keeping with numbers from August 2019 – one of the warmest weather months of the year. 
More from Chris Long: "Despite very few people commuting, our biking numbers have remained consistent throughout the city, which we believe reflects a desire to get outside and social distance from a bike. Walking also seems to be very popular especially to and from our parks. This discovery has led to us creating "Healthy Streets" in Bellevue to provide more space for residents to social distance while walking, riding or rolling to and from our parks." You can read more about the Healthy Streets initiative on the city website.
We hope to see the green line grow! While it will look different than any year before it, we hope that Bike Everywhere Month during June 1- 30 will encourage even more folks to get out to enjoy the fresh air on two wheels and move around town responsibly. More information about biking in Bellevue and how Bellevue is celebrating Bike Month can be found on the Choose Your Way Bellevue bike page. 
-Choose Your Way Bellevue staffer Augusta