Thinking about a less stressful commute? Vanpool is a great option!
Posted on October 3, 2019
---
Are you one to daydream about a commute that would allow you to sit back, relax, read or check your messages? Well, today it's easier than ever to make that dream a reality! King County Vanpool is a popular way to save money and time on your commute.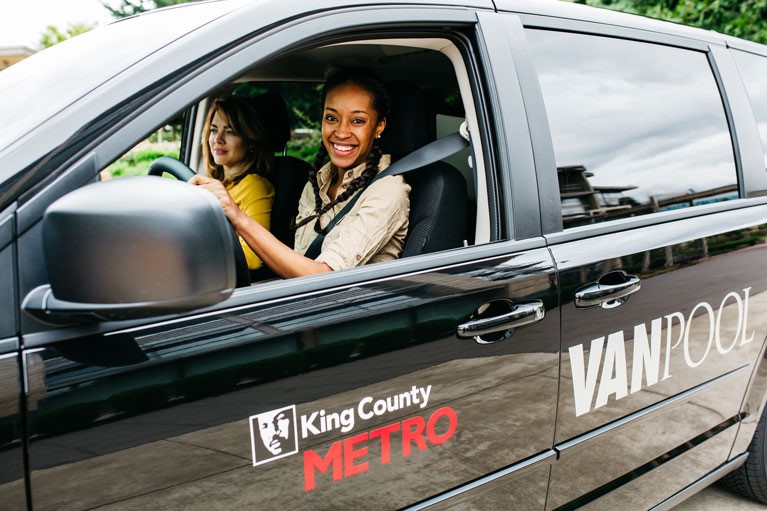 Q: What is a Vanpool?  
Vanpools are a flexible, comfortable and cost-effective way for commuters to share their rides to work. They allow you to drive in the HOV lane and can also save riders an average of about $6,000 annually. Check out the video .
Q: How much does it cost?
Fares are based on mileage, number of riders and size of van. On average, the monthly vanpool cost is similar to a monthly transit pass. Fares cover gas, insurance, maintenance, roadside assistance and an emergency ride home. Check out the programs that wave the fare and allow personal use of the van for participants who are willing to drive.
Q: How do I get started?
Create a profile and search for a Vanpool group.  After completing your profile, you will receive a customized list of commuters who live and work near you. Find a match - contact the bookkeeper to confirm seat availability, route and schedule so you can be on your way to a less stressful commute.
Taking a vanpool can mean less time behind the wheel and more time to spend on important tasks, it also means more time for yourself. Instead of focusing on driving, taking a vanpool allows you to save time, which can be used for work-related activities, checking your phone or resting.
-Choose Your Way Bellevue staffer Phyllis