Choose Your Way Bellevue Rewards Program: 2019 in Review
Posted on December 20, 2019
---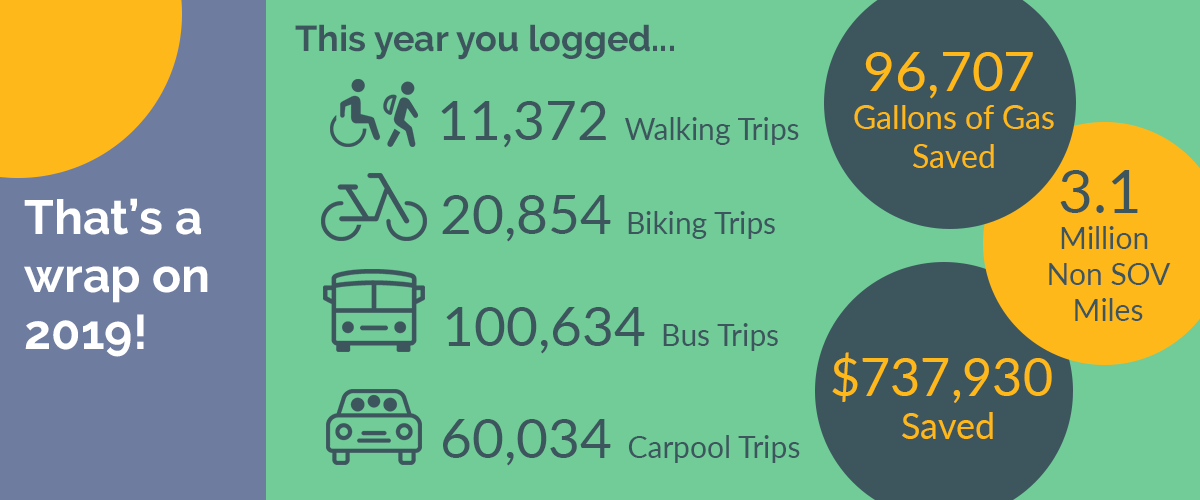 TRIP LOGGING
It's been quite a year for Choose Your Way Bellevue commuters! You've managed to achieve impressive numbers as you've changed your travel modes to reduce drive-alone trips. This year you've logged the following numbers by type of trip:
11,372 walking
20,854 biking
100,634 bus
60,034 carpool
28,438 vanpool
22,173 telework
In all, 3.1 million non-drive-alone miles
Wow! That's quite a feat. Not to mention - these efforts have led to some big savings:
1,848,243 pounds of carbon dioxide saved
96,702 gallons of gas saved
$737,930 in monetary savings
You've been quite interested in finding ride matches as well, with over 44,000 ride match requests sent!
Note: You can learn how to create a ride match with our handy infographic!
REWARDS
The Choose Your Way Bellevue Rewards program, where Bellevue travelers can earn rewards by logging non-drive-alone trips, was a raving success! In 2019, over 1,000 rewards were distributed to travelers who utilized the Choose Your Way Bellevue Rewards portal to RideshareOnline.
In our most recent campaign, Fall in Love with Your Bellevue Commute, 286 program qualifiers logged non-drive-alone trips between Oct 1 and Dec 20, 2019. These qualifiers received tangible rewards such as Choose Your Way Bellevue-branded backpacks, tumblers and gloves + waist packs. This program wraps up on Dec 20, so stay tuned for upcoming programs next year!
-Choose Your Way Bellevue staffer Alex
Data pulled 1/1/19-12/19/19