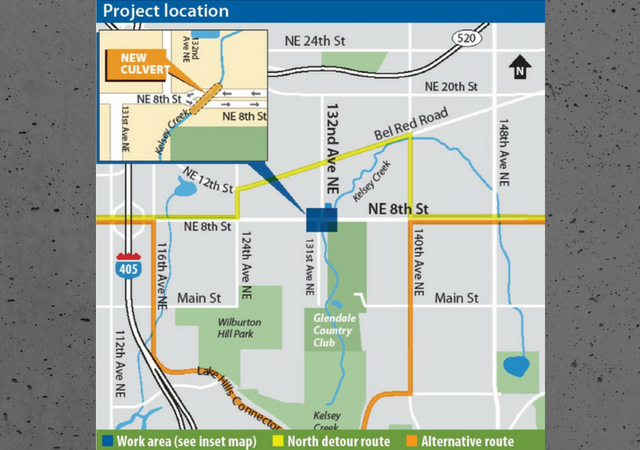 Starting Wednesday, Aug. 15th all lanes of Northeast Eighth Street between 132nd and 134th avenues will be closed due to Bellevue Utilities replacing the Kelsey Creek culvert under the street. Initial estimates anticipated a 17-day closure but excavation of the site has revealed the need for a more complex and extended demolition process. Work will likely be completed by Sept. 16.
Building a new culvert under Northeast Eighth Street will ensure the long-term safety of the roadway which carries more than 23,000 vehicles a day, protect critical utilities and improve fish passage in Kelsey Creek which flows under the road.
Northeast Eighth Street is an important route for residents of Bellevue and regional commuters, and it provides a corridor for underground utilities such as water and gas lines. The safety and reliability of this transportation route is a priority for the City of Bellevue.
Details the travelling public should know, include:
No through traffic will be possible 24 hours a day, seven days a week during the closure. Detour routes will be available.

Local access to neighborhoods will be maintained on 132nd and 134th avenues. Uniformed police officers will be present to prevent cut-through traffic.

King County Metro bus stops in the work zone will be temporarily closed.
During the 33-day full closure, crews will work from 7 a.m. to 8 p.m. in order to complete the work as quickly as possible. The detour route map shows how drivers can get around the work zone during the full closure.
For more information and to sign up for alerts, visit the project website at BellevueWA.gov/KelseyCreekCulvert.