How to ride the bus

​1. Find your route
Enter your destination and when you want to arrive into a trip planner. The King County Metro Trip Planner and Google maps (using the public transit tab) are good examples.

Pay attention to the side of the road you need to catch your bus on to ensure you're going the right direction.   

The readerboard along the top of the bus tells you the final destination of that bus. 

When in doubt, ask the driver or another rider!
​2. At the bus stop or park and ride
Plan to arrive a little before your bus is scheduled, as buses sometimes run a few minutes early.

Easily identify your bus by checking the route numbers along the top and side of the bus.

Signs at the bus stop list which routes serve that stop, so you know where to wait. 

Timetables at most bus stops show you the estimated arrival times for different stops along the bus's route. You can get printed timetables or look them up online.

OneBusAway is a free smartphone app that shows real-time arrival information for buses at your stop.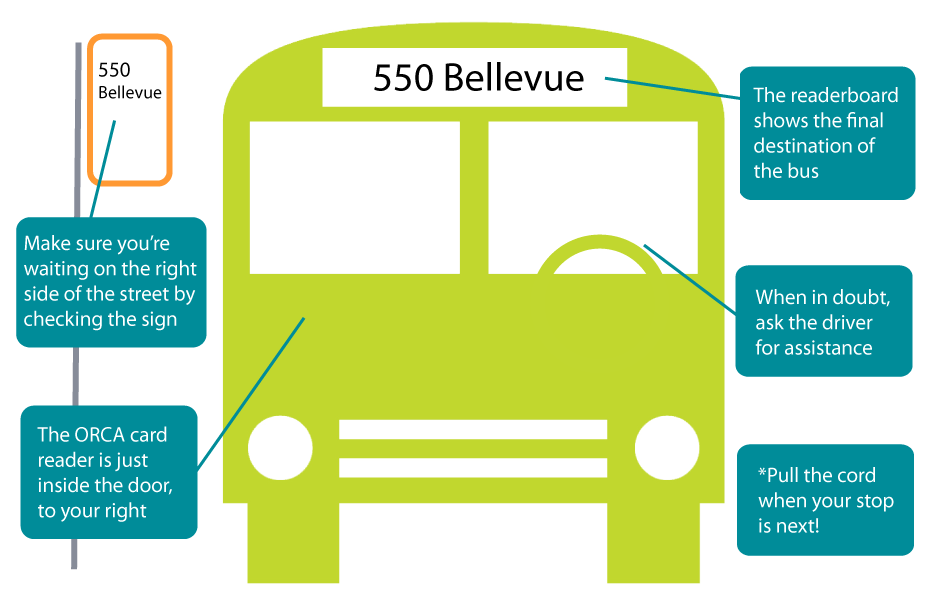 ​3. Pay for your trip on entry
There are two ways to pay your fare: 
ORCA: Tap your ORCA* card against the card reader for fare payment as you get on the bus. (ORCA cards automatically keep track of the appropriate fare and provide two-hour transfers.) You can reload an ORCA card online, in person at a customer service center or at an ORCA vending machine. Read more about ORCA cards in our blog. 

Get an ORCA card: Buy a monthly pass or pay as needed with e-purse.

ORCA Lift: Reduced fares for lower income users are available through an application process.

Just want to try out transit? Email us and we'll send you an ORCA pre-loaded with $10 to try transit.
Cash: Bring exact change - the driver won't be able to make change. 

For King County Metro routes, the driver will give you a paper transfer, which you can use to continue your trip on another King County Metro bus within the timeframe indicated on the transfer. For all other transit agencies (Sound Transit, Community Transit, etc.), you'll have to pay again when you change buses. 
4. Request your stop
Upcoming stops are usually displayed on the readerboard inside the bus, near the exits. Stops will often be announced inside the bus as well. You can also use apps to track your bus.

When your stop is next, pull the yellow cable near the window or push the red "stop" button on the edge of some seats or near the rear door hand rail. This lets the driver know you want to get off. 
Bus etiquette tips:
Have your ORCA card or fare ready to make boarding quick for everyone. 

Unless you need the handicap ramp, exit to the rear of the bus at busy stops. 

If the back door doesn't open, a polite "Back door please!" will get the driver's attention. Some buses' back doors can be opened by lightly touching on the door when a light above the door turns green.

Hold your purse, backpack and other personal belongings in your lap, at your feet or in the overhead luggage areas if available, to leave room for others. 

Wear headphones and listen at a low volume. 

Leave the seats at the front of the bus open for families, older adults and those in wheelchairs. 

Try to refrain from eating smelly food on the bus. 

It is polite not to talk on the phone while you ride the bus, but if you must, try to keep it respectful, quick and quiet. 
Here's a fun article about bus etiquette from The Seattle Times.  

*ORCA stands for "One Regional Card for All" and is accepted on Community Transit, Everett Transit, King County Metro Transit, Kitsap Transit, Pierce Transit, Sound Transit and Washington State Ferries.