Ride Transit Month Recap – Metro Ridership in 2021 Thus Far
Posted on June 30, 2021
---
We hope you enjoyed celebrating Ride Transit Month this June! Curious to know how Metro ridership has changed since 2021 began? Lucky for you, we checked into King County Metro's The Dash and came up with some key takeaways below.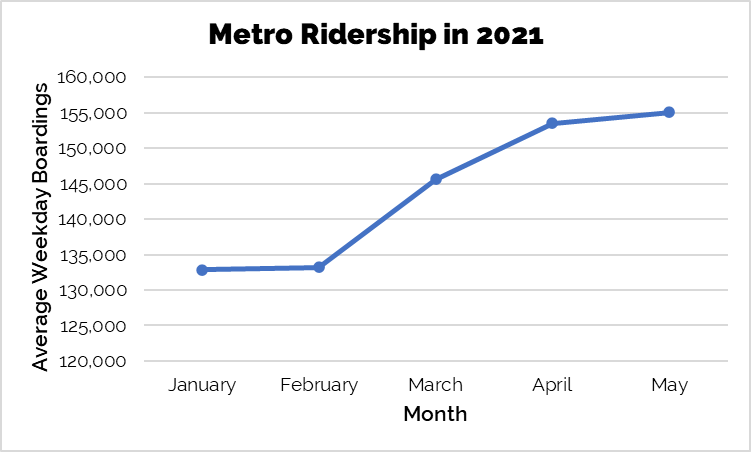 *All information in graph pulled from King County Metro's "The Dash" page and shows only KCM data.
Key Takeaways:
Metro's countywide  ridership rose steadily since the beginning of the year, growing from 132,847 average weekday boardings in January to 155,065 average weekday boardings in May
Average weekday boardings have remained fairly steady between April and May 2021, ranging from 153,504 to 155,065
As Washington State began to open back up, ridership increased on Metro vessels
Still, ridership has decreased overall since the beginning of the pandemic, dropping significantly from a high point of 466,585 average weekday boardings in February of 2020. However, Metro is  seeing a steady rise in ridership in the last few months that will hopefully continue as things return closer to normal and transit returns to full capacity.
For more information on this topic, please visit Metro's rider dashboard here.
-Choose Your Way staffer Alex